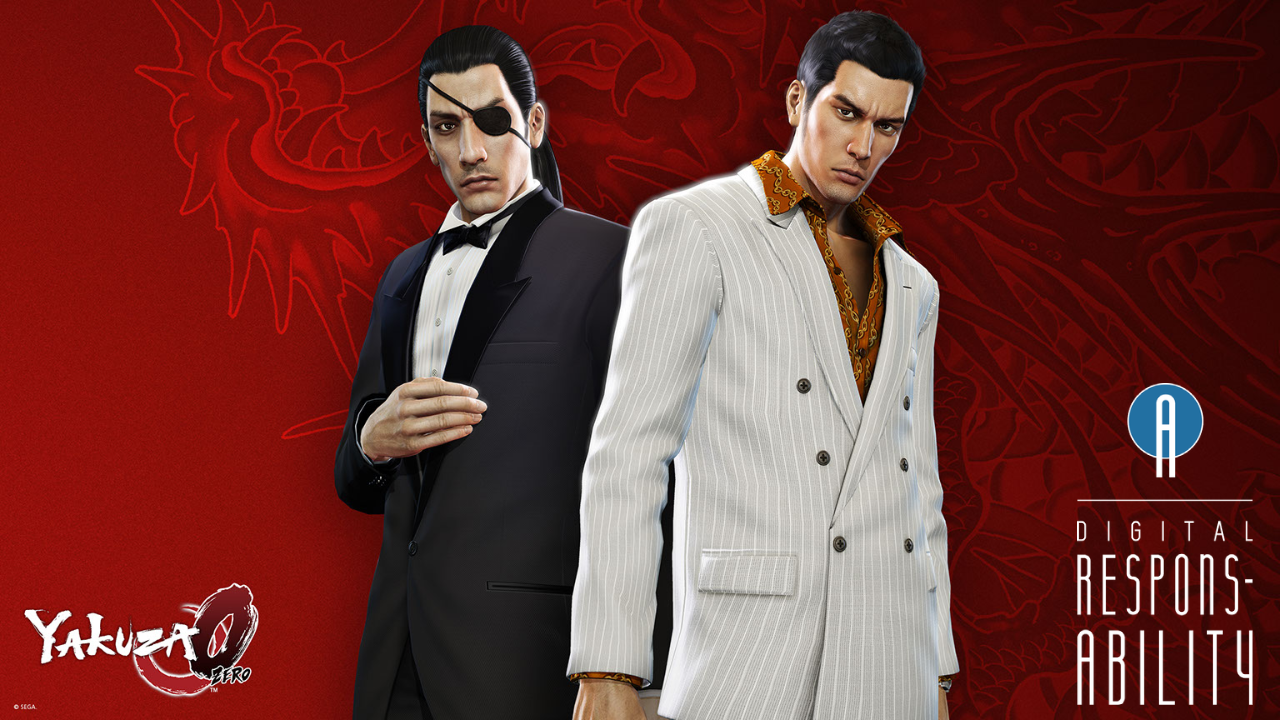 Reviewed on: PS5
Reviewed by Carrie Rogers-Whitehead
With laughter and heartbreak, the prequel to the Yakuza series, Yakuza 0, offers a deep story with fun brawling gameplay for older teens and young adults.
Yakuza 0 is a fairly recent addition to the long-running, action-adventure Yakuza series. But though it came out just a few years ago, and just this year on Amazon Luna, it is a prequel set in 1988. It introduces the main protagonist, Kazama Kiryu as well as the unpredictable, sometimes-antagonist Goro Majima. The two characters are living during Japan's "bubble" economy with money everywhere, disco clubs, over-the-top clothes and a hot real estate market.
Earlier I reviewed the most recent addition, Yakuza: Like a Dragon, which brought so much laughter and joy that we ended up getting a platinum trophy on the game. After Like a Dragon we knew we wanted more, so started Yakuza 0.
Yakuza 0 did not disappoint. Like other titles in the series, Yakuza 0 it's chock-full of wacky substories, brawls and minigames. But what impressed me the most was the complicated, intriguing and emotional main story that at one point literally brought me to tears. Kiryu is a young punk yakuza, starting out with the Kazama Family, and Goro Majima is a former yakuza, and current cabaret owner. The two stories intersect across the main plot in two highly detailed and fun to explore fictional cities: Kamurocho and Sotenbori. You really begin to care for these characters, with their flaws and all, as they work to keep the principles and beliefs in a system that encourages violence.
Like other Yakuza games, there is sexual content and graphic violence. Kamurocho is a version of Tokyo's red light district and mature themes around alcohol use, prostitution, human trafficking and more are present. There are strong misogynistic plots and characters with abuse and treatment of women.
Yakuza 0 is an ideal game to start the series. With Like a Dragon, Ichiban Kasuga takes over Kiryu's protagonist role and brings new characters, game actions and more to the game. But it all started with Kiryu and Goro in Yakuza 0.
Parent Score
3 out of 10
The combination of violence, sexual content and misogynistic themes makes this title not recommended for anyone but older teens and young adults.
Fun Factor
8 out of 10
This game is full of fun content. You can spend hours in Yakuza just doing substories and mini games, ignoring the main story.
Pros
Fun and whacky gameplay
Heartbreaking and well written story
Cons
Violence
Sexual content
Misogynistic themes