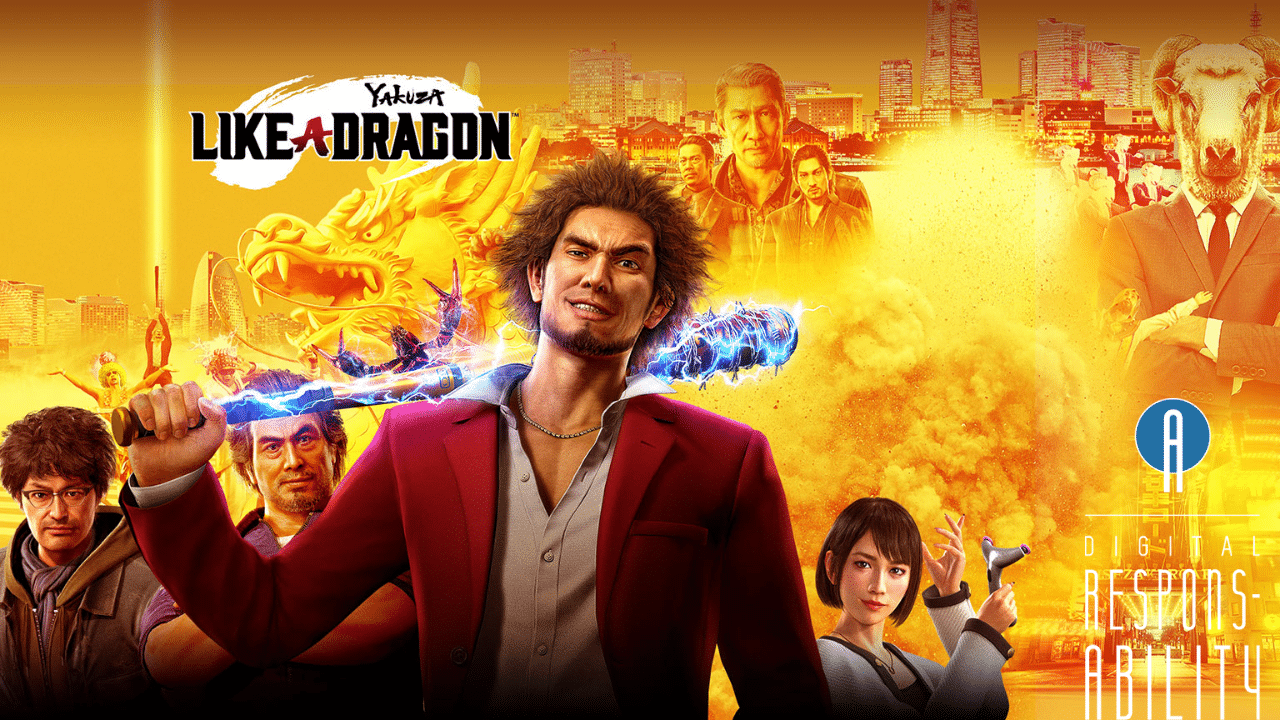 Yakuza: Like a Dragon
Reviewed on: PlayStation 5
Available on: PlayStation 4, XBox One, Playstation 5, XBox Series X/S, PC
Reviewed by Carrie Rogers-Whitehead
Campy, wacky, heart-breaking, detailed and so much fun–Yakuza: Like a Dragon revamps the long-running series with a different type of protagonist.
Yakuza: Like a Dragon is the most recent addition to the long-running Yakuza series. A yakuza is a Japanese gang member, and previously the protagonist of the yakuza games was Kazuma Kiryu. But in this new game, the torch is passed to Ichiban Kasuga, a 42-year old former yakuza just released from prison after 18 years with nothing to his name. The game is RPG format and you follow Kasuga's journey from jail, to living on the streets–to so much more. The story is packed full of subplots, mini games and vast and immersive cities and subways. Even after I was in the post-game, and all the subplots were finished, I still found new restaurants and hidden alleys
It was difficult to give Yakuza: Like a Dragon a parent score. On one hand there are very mature sexual themes and topics: prostitution, homelessness, so much alcohol, BDSM and much more. But on the other hand, the game doesn't take itself too seriously and those themes are not out front, but part of subplots and background of the fictional cities of Ijincho and Kamurocho. The player will literally fight with a giant vibrator and then right after help out a young girl raising money for her sick brother.
A main theme of Yakuza is about "gray zones" places where activities such as prostitution, illegal immigration, substance abuse occur. But these are also the zones with kind characters who help Kasuga when he's down on his luck. There's the brothel owner who's trying to protect her prostitutes since they are working in Japan illegally. There's another prostitution owner who cares so much about the women there that he's always checking in to make sure they're safe. There's the homeless camp chief that works to feed and protect those of the camp. The antagonists of the game are institutions and politicians. One is Bleach Japan, a group wanting to "bleach the gray zones." The story continually makes the point that people are complicated–we are all in gray zones. You shouldn't judge another's situation but simply be kind.
The other themes of Yakuza were positive: friendship, not judging other people, living with honor and family. It's those positive themes that make it hard to give this game a parent rating. The ESRB gives it a Mature rating and I think that's fair. In addition to the sexual content there's violence–blood flies when punching or attacking people, and some of the attacks are very violent, like literally searing someone's face on a hot pan. But unlike almost any game out there, Yakuza really makes you think of people in different circumstances, those gray zones. The main characters in this game, the gangsters, prostitutes, bar owners, and the homeless are not ones that we see in our lives. So we judge, even say we should "bleach" those zones. But Yakuza makes you sit back and see that they are just people living their lives–and that someone's kindness and honor, not their clothes or profession, should be how we treat others.
Parent Score
5 out of 10
Yakuza has mature sexual themes and frequent cursing, but it's campiness and silliness takes the edge off and moves this score up.
Fun Factor
9 out of 10
Endlessly serendipitous with surprises and laughter around every corner. Yakuza: Like a Dragon has been the most fun game I've played in 2021.
Pros
Great comedic writing
Themes of real and present issues
Cons
Mature sexual themes
Frequent cursing