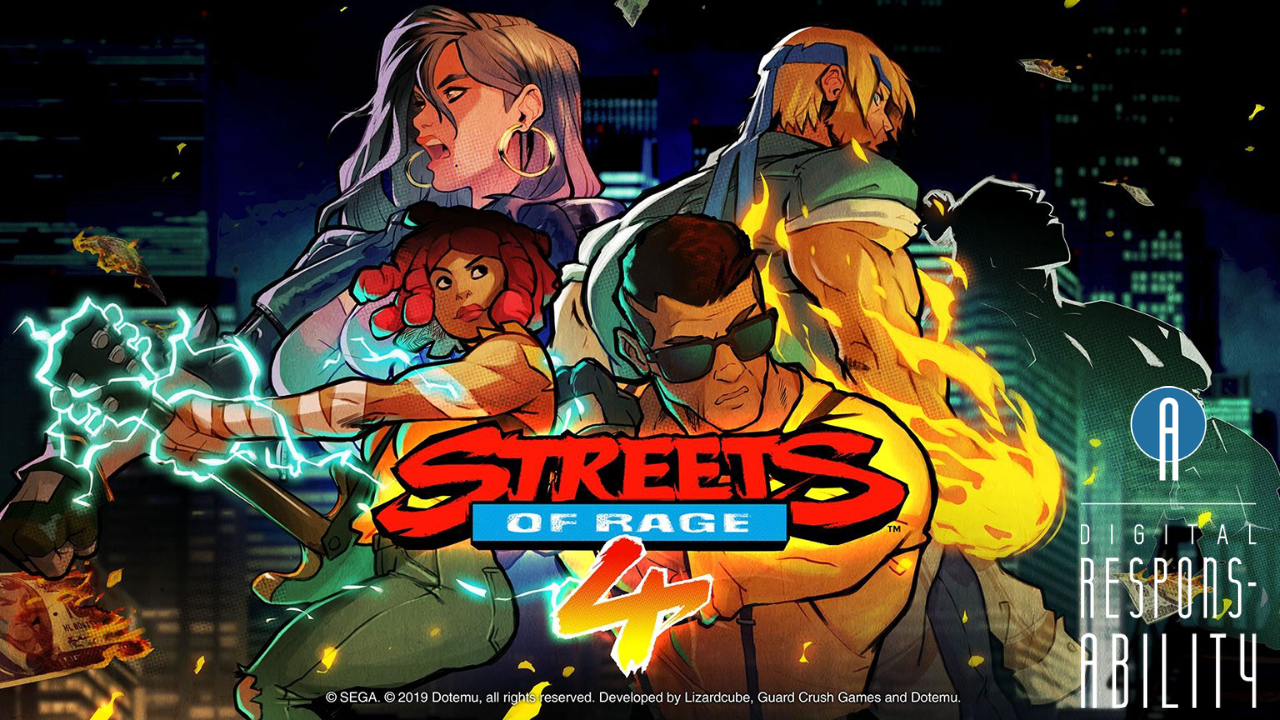 Streets of Rage 4
Available Platforms
Release Date
4/30/2020
Developer
DotEmu
Publisher
DotEmu
Streets of Rage 4 encapsulates the games of a bygone era with some improvements and a stellar presentation. But how appropriate is it for families? #Parentingreviews #Parenting #gamereviews
Reviewed by Alan Valdez
What is it?
Streets of Rage 4 is a side scrolling beat 'em up. It is a continuation of the series released in the 1990s on the Sega Genesis. The game emulates the feel of the old school beat 'em ups from the past, with up to four players in local multiplayer or online. While adding some new mechanics that improve on the gameplay.
The story is set in Wood Oak City where a crime syndicate is attempting to brainwash the population. It is up to our heroes to prevent that, by punching and kicking their way through hundreds of enemies.  
Language
Streets of rage 4 is very clean in regards to it's language. Although the story deals with crime syndicates and brainwashing, it  keeps a very fantastical and whimsical tone.
Violence
As an arcade style brawler, most of what the characters do is fight, but like most games in the genre since back in the 80s, the presentation is so cartoony it should not concern parents.
Sexual content
There are a couple scantily clad dressed characters in the game, nothing beyond that.
Positive points
Story wise, there isn't much here. The value of this game comes from spending a fun time with up to 3 other friends and family members. The game has such ease of access, pretty much anyone can pick it up and enjoy it. The game does have higher difficulty settings for players wanting a challenge. 
I played the full game with my 9 year old and we both had a blast and go back to it often.
How fun is it?
Streets of Rage is a blast to play. The tweaks the developers made to the classic formula add a degree of longevity to the gameplay, making it fun to play again and again. With a wide roster of characters to choose from, all with significantly different styles of gameplay, and many difficulty options–there are many hours of fun to be had. As such, we give it an 8 out of 10 in fun factor.
Fun factor 8 out of 10
PARENT SCORE 8 out of 10
+Fun cooperative gameplay
+Many options to challenge oneself
– Fantasy violence
Streets of Rage 4 incredibly encapsulates games of a bygone era, with new additions to keep it enjoyable for many hours. At the same time, the game is safe for anyone 8 and up. 
Pros
Fun cooperative gameplay
Many options to challenge oneself