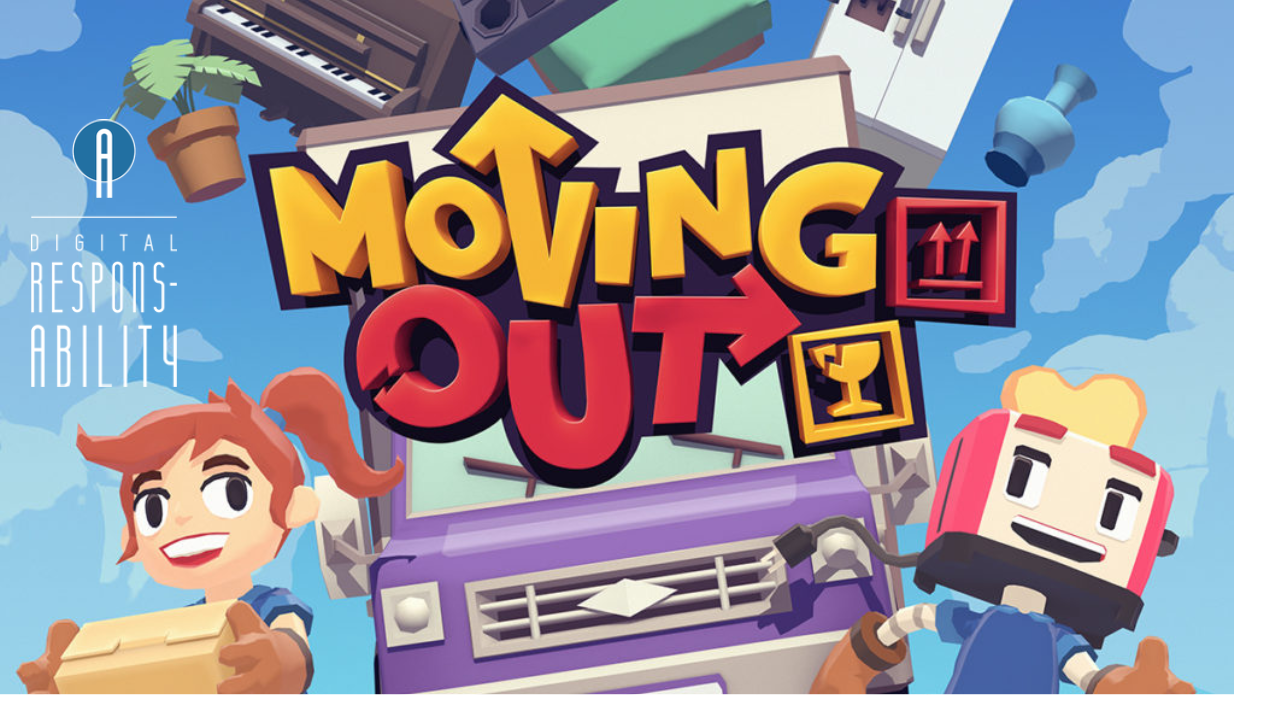 Moving Out
Available Platforms
Release Date
04/28/2020
Developer
SMG Studios and DevM Games
Publisher
Team 17
Moving out is a chaotic and fun co-op game about movers with very little concern for the well being of the furniture they are handling. It is a fun family friendly whacky journey!
Reviewed on: PlayStation 5
Reviewed by Carrie Rogers-Whitehead
Moving Out is a cooperative moving simulation game where you move objects from houses into a moving van. It's a local or "couch co-cop" and entertaining and fast-paced game to play with friends or family.
In 2020 a Swedish and Australian developer brought a new cooperative game that anyone can play—although not everyone can succeed! In the game you try to pick up, throw and handle multiple objects from a home into a moving van. You have to work together to pick up and throw larger objects, and avoid obstacles such as ghosts, turtles and "guava" floors that will make you have to start over.
We beat the game as a family, but it wasn't easy. There's bronze, silver, gold and platinum levels and it was a lot of work and coordination just to get the bronze! There is an assist mode that you can use if you don't want to have to operate under that pressure. There's a simple story of inept movers, an absent boss and nefarious packrats, but the focus is on moving things in various homes, offices and environments.
Moving Out is a fun co-op game, but my vote for best family co-cop game is still the Overcooked series. Both games require teamwork and communication, but Overcooked is more focused on strategy, while Moving Out relies on a certain amount of technical skill. With jumping, quick movements, coordinating with players, you win more by your movements than your brain.
Moving Out is rated E for Everyone by the ESRB. There's no violence (besides the some-what annoying ability to slap your teammates), no blood, no nudity or sexual content and no foul language.
Our family had fun playing Moving Out–but it was also exhausting too! 
Parent Score
9 out of 10
There's no violence, nudity or language in this game. Our only frustration was the ability of one family member to slap and derail the whole level!
Fun Factor
7 out of 10
Moving Out is a fun, but sometimes-tricky, co-cop simulation game. Anyone can play the game, but it is hard to get the highest gold or platinum scores.