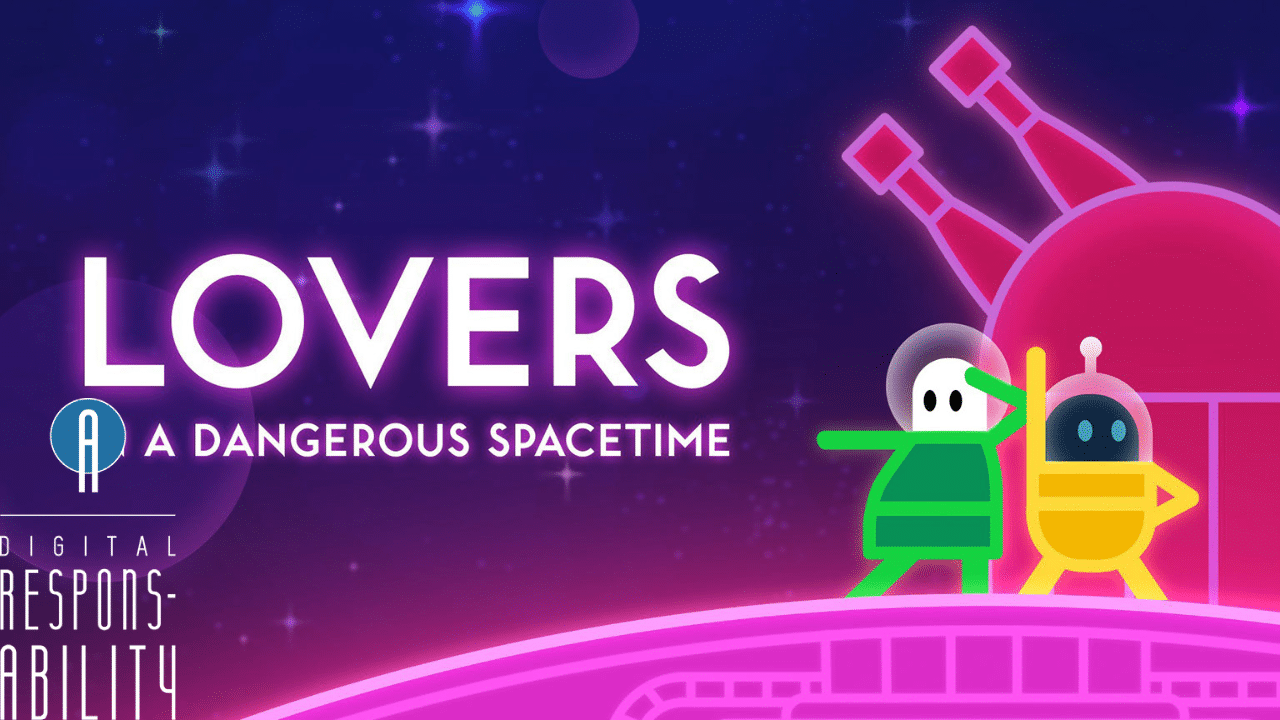 Lovers in a Dangerous Spacetime
Available Platforms
Release Date
September 9, 2015
Developer
Asteroid Base
Publisher
Asteroid Base
Lovers in a Dangerous Spacetime is a cooperative action game that the whole family can enjoy together.
Lovers in a Dangerous Spacetime
Available on: PlayStation 4, XBox One, Nintendo Switch, PC
Reviewed by Carrie Rogers-Whitehead
This colorful cooperative space game that will bring your family together.
Lovers in a Dangerous Spacetime is a fast-paced, loud, colorful and sometimes frenetic cooperative game you can play with up to 4 people. In the game you rescue bunnies and navigate through wormholes, lasers, asteroids and more to restore love to the galaxy. Players must work together on a ship to defend the hull, shoot down the enemies, move through tight spots and more. Throughout the game you go through different space environments and fight bosses, upgrading your ship, and upgrading your own skills to get through the levels.
I found the game a bit tricky at first. You have to move fast because a lot is flying at you. By figuring out our strengths and assigning roles we were able to move first. There's a lot of talking and shooting needed in this space game!
Lovers is recommended by the ESRB for 10 plus because of "fantasy violence" but from my experience playing it with my family it should be E for Everyone. The fantasy violence just refers to robots and ships being blown up and the tinny screams of little bunnies you rescue from imprisonment. There is no swearing or sexually suggestive or adult content.
Lovers received some independent game awards and positive reviews from critics. Since it's release first on PC in 2015 it has since been released on Playstation 4 and more recently, Nintendo Switch, which is it's best-selling platform. When COVID-19 hit, more people were looking for games to play together and Lovers, although 5 years old at this point, had another large spike in sails.
We at Digital Respons-Ability are all about families playing games together. Lovers in a Dangerous Spacetime is another co-cop we enjoy. If you're looking for other similar games check out our reviews for Overcooked! All You Can Eat and It Takes Two. 
Parent Score
9 out of 10
The game has no swearing or anything sexually suggestive. There is fantasy violence but it's more cute than anything else.
Fun Factor
7 out of 10
This co-cop game requires communication, speedy fingers and patience. Some of the levels are trickier for less experienced players but over time families should figure it out.
Pros
Family Friendly
Challenging gameplay for all ages
Cute graphics
Cons
Could be too difficult for younger players