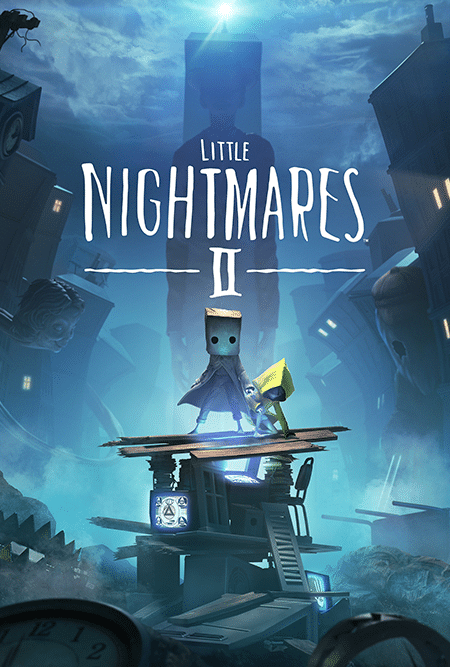 Little Nightmares II
Available Platforms
Release Date
December 9, 2020
Developer
Tarsier Studios and Supermassive Games
Publisher
Bandai Namco Entertainment
Little Nightmares II is a suspense-adventure game in which you play as Mono, a young boy trapped in a world that has been distorted by the humming transmission of a distant tower.
PARENT SCORE 6 OUT OF 10

Wonderfully executed visuals, sound and story. Paired with fun and engaging gameplay make for this a triumphant sequel.
Written by Alan Valdez
Reviewed on PlayStation 5
Available on: PlayStation 4, Nintendo Switch, Xbox One, PlayStation 5, Xbox Series X and Series S, Microsoft Windows, Google Stadia
Support us through Patreon: https://www.patreon.com/digitalparenting
Little Nightmares 2 is a beautifully haunting, fun and potentially very scary platformer and puzzle game.
From the start of the game, Little Nightmares 2 projects it's goal with it's presentation. From the haunting music, to the almost claymation quality of the graphics, the game is filled with a disturbing and eerie atmosphere.
The game does not have excessive gore like the horror genre generally does, what you see in that regard is more the leftovers of something that must have happened in the past, such as piles of dead bodies in a corner, or meat grinders. The main strength of the game comes from the atmospheric horror, not knowing what is around the corner and the feeling of being hunted by grotesque creatures.
There is some violence towards your main character, a child named Mono, if you get caught. Such as getting shot at or eaten. These situations are not overly graphic, as the screen goes black after a second and you are left to imagine the rest. A couple of the main enemy battles are solved with them suffering a violent death, but these things are off screen, such as your character pointing a gun at a door and shooting through it.
The game requires quick thinking and puzzle solving in order to traverse and survive the stages your protagonist, Mono, needs to get through.
Overall, the main thing to keep in mind in regards to your children, is based on their experience with scary games/movies. Children under ten might get too scared from it. But ages eleven and up should love this game.
The game does not contain language issues or nudity.
PARENT REVIEW

Taking a different approach from the normal cliches of horror, Little Nightmares 2 is a game that could scare younger children under 10. But it is a greatly designed and enjoyable game for older kids.
From the beginning, you are treated to the superbly haunting soundtrack of this game, if I had to praise something about all else in this game, it would be the sound design. From the score to sounds such as wood creaks, the game pulls you right into the proper mindset.
The art is beautiful and charming in a disturbing way, from the child you play as Mono, and his companion Six, the protagonist of the previous game. To the grotesque and disfigured giant monstrosities you face as challenges.
The gameplay has improved from the previous game, the platforming feels very tight and smooth. The gameplay with an AI partner might sometimes inspire worry, but in this case, Six is quite capable and aids you with   hints if you are stuck in some places. Mono's special ability, later in the game, adds a level of fun and experimentation to the puzzles that feels right at home.
Your relationship with Six feels tender and real, as two children working to survive in this world.
The story is again a mystery to piece together, the design of the city you traverse is gigantic and decrepit, it makes you wonder what has happened in this world.
Little Nightmares 2 improves on everything the first game did and tells a great story.
FUN FACTOR 9 OUT OF 10
Wonderfully executed visuals, sound and story. Paired with fun and engaging gameplay make for this a triumphant sequel.