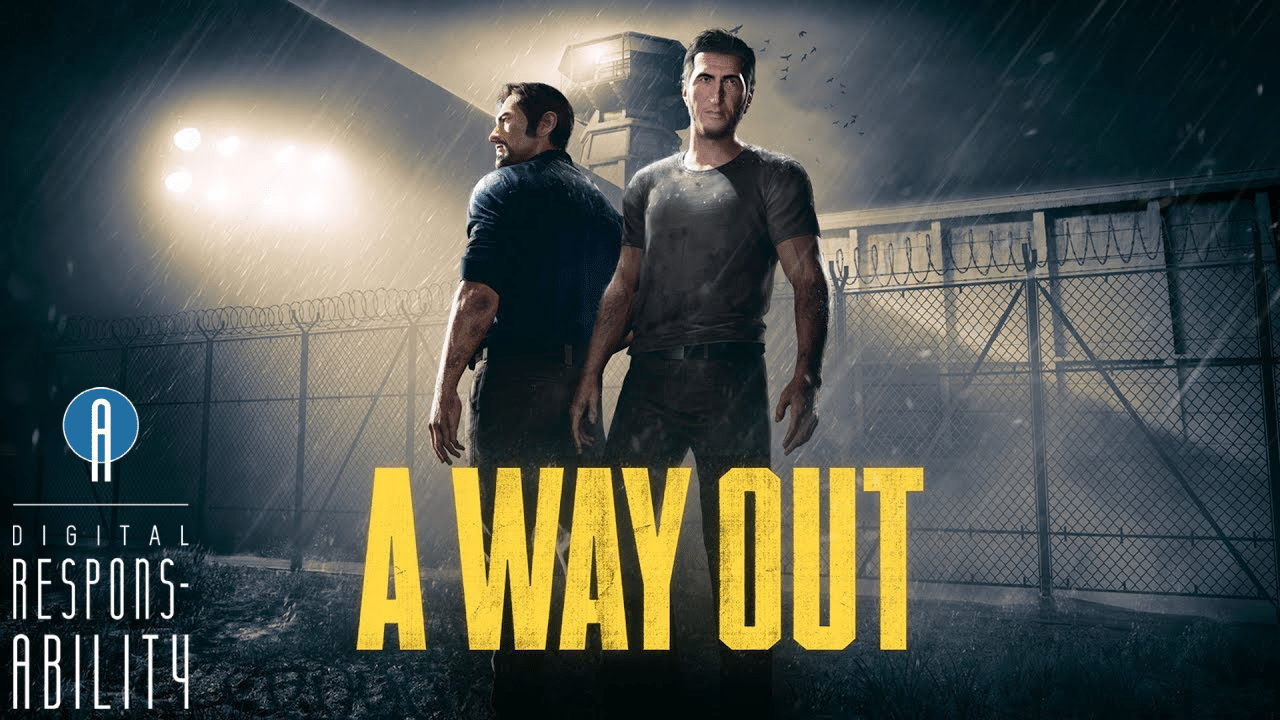 A Way Out
Available Platforms
Release Date
03/28/2018
Developer
Hazelight Studios
Publisher
Electronic Arts
The co-operative adventure game A Way Out has mature themes, but also a strong emotional story.
Reviewed on: PS5
Reviewed by: Carrie Rogers-Whitehead
A Way Out is an action-adventure game released in 2018. It offers a special split-screen cooperative experience that draws the two players in. In the game you control Leo and Vincent, two prisoners who must break out of prison in search of the same enemy. You play through the prison, countryside, roads, rivers and skyscrapers. This game requires concentration, quick actions and lots of talk. The players must work together to escape and through the game both the characters (and most likely) the players will bond.
This game was received well and sold over 3 million copies, a large amount for a smaller developer, Hazelight Studios. This small team of developers are trying to change co-op play. In many co-op games, one player "tags along" and does not have an equal contribution to the story. Hazelight is also the producer of Brothers: A Tale of Two Sons and the recently released It Takes Two. These are two emotional stories that take collaboration and communication from two equal players working together. 
A Way Out is rated Mature 17+ by the ESRB. However, I believe that older teens can handle this game. The blood and violence is not overdone. There are no blood spatterings on the screen and death usually takes place off screen. A Way Out has male nudity and sexually suggestive scenes. It has also regular cursing and mature themes. Despite this, I believe older teens can handle those themes, particularly if they are playing with an adult.
In the story, you see the two sides to crime. You have empathy for the criminal and the situation he was placed in. You virtually experience prison life and what prisoners have to go through. You also feel for law enforcement, and the tough choices they make. A Way Out's story can prompt discussions and talk between child and caregiver. 
A Way Out is full of action, but also heart. I found myself crying at the end when the player is forced to confront the inevitable consequences of the characters. Sometimes there are no easy endings, which is an important lesson for young people.
Parent Review
6 out of 10
A Way Out has mature themes, language and nudity. But the co-op style of game play with a partner allows for supervision and an opportunity for caregivers and children to talk and bond.
Fun Factor
8 out of 10
A Way Out has an impactful story and fast-paced game play. You really care about the characters and are invested in them. The co-op play is streamlined and allows for full participation from both players. 
Pros
Cooperative Gameplay
Shows consequences to actions
Helps with empathetic development
Great way to begin conversations with kids
Impactful Story
Cons
Mature themes
Violence
Nudity